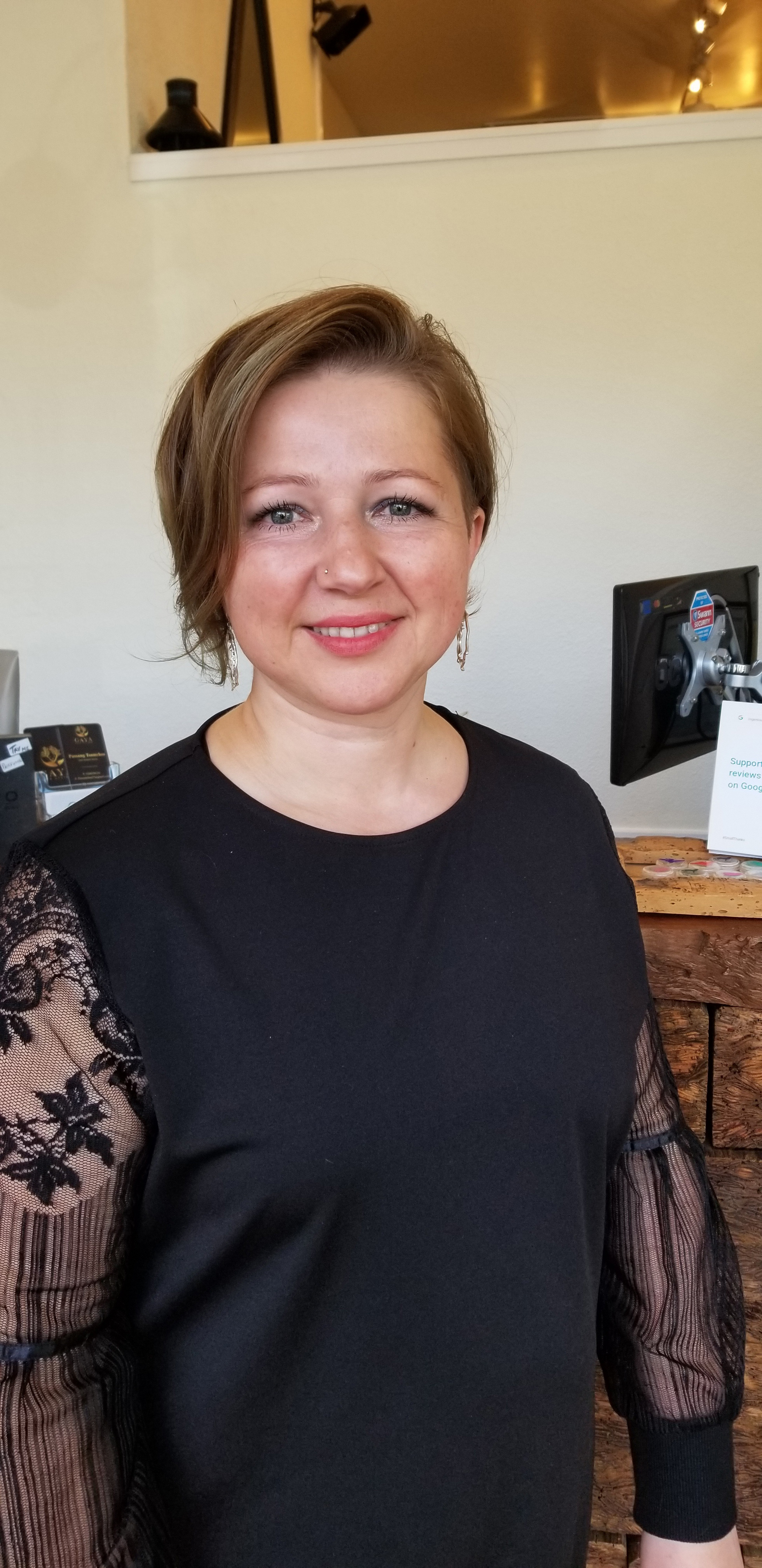 Tatyana Kosogina
Master Stylist/Colorist, Regional Educator for Simply Organic Beauty, Scalp Micropigmentation Artist, Herbal Hair loss specialist & Owner
Why settle for less when you can have the best of both worlds, organic products from nature and unrivaled service at Ingenious Salon, owned by Tatyana Kosogina.
Known as one of the most dynamic, creative, and health-oriented professionals in her respective industry, Tatyana has been working as a stylist in San Francisco since 1998. She was trained in precision haircutting by well-recognized hairdressers from Vidal Sassoon and Tony & Guy at Architects and Heroes Salon, ones located in the heart of the Big City. Some of Tatyana's favorite textures include ethnic, curly and Asian hair. Her passion is to improve hair canvas, scalp wellness, drive for perfection and never-ending urge to learn have always set her apart from traditional hairdressing.
Over the last 20 years Tatyana has perfected her technique and professional skills through numerous advanced courses in her field, including master's diploma In Balayage and Creative hair painting from L'oreal Professionel Soho Academy. Her last 8 years have been dedicated to working only with eco, green and Organic haircolor and products. Being a Regional Educator first for Organic Color Systems and now Oway, Tatyana believes that, the more you teach the more you learn! She is proud to be a part of such an amazing team at Simply Organic beauty and to be able to share the philosophy and core values of Oway, the most Eco Conscientious company on professional market today. The combination of Green Chemistry and powerful Biodynamic, Organic and Fair-trade ingredients deliver an amazing clean air experience for clients and stylists alike. Healthy hair, Scalp and body are the most important components of a healthy living.
For the last year she has dedicated her time to in depth studying of hair loss, herbal scalp treatments & hair and scalp micropigmentation. SMP is scalp tattoo that mimics hair follicles, adds density,camouflages scaring & creates an illusion of more even hairline. This amazing service can benefit females and males alike, giving you the confidence you have always wanted. Tatyana's dedication to the art of precision and aesthetic beauty will make you feel well taken care of.
"If there is a way to help a client, I will do my very best to make them feel special, cared for and give them all the tools and options, to look and feel their best!"
| | |
| --- | --- |
| Services | Price |
| | $95+ |
| | $80+ |
| | $40+ |
| | $50+ |
| | $65+ |
| | $0 |
| | $20 |
| | |
| --- | --- |
| Services | Price |
| | $65+ |
| Blow dry with flat/curling iron finish | $85+ |
| Special occasions style/Up-Do | $110+ |
| | $100+ |
| | $150+ |
| Services | Price |
| --- | --- |
| Naturia Smmoothing Keratin Treatment | $200 |
| Smooth ritual maintenance | $95 |
| | $150+ |
| | $120+ |
| | $25+ |
Celluma Pro LED Light Therapy
| Services | Price |
| --- | --- |
| Any area Full 30 min treatment | $80 |
All facial treatments are available by appointment only.
For any facial anti-aging treatments please arrive with clean face and no makeup. All facial treatments are available on Mondays and Sundays by Appoinment only.
All pain and inflammation reduction treatments can be incorporated during your regular scheduled color services upon availability or by Appointment.
SMP( Scalp Micropigmentation)
Pricing is based on the individual circumstances and will be discussed during complementary consultation.
Each treatment will consist of 3-5 visits and can range from $800.00 – $4500.00 .
In some instances, more sessions will be required, and the final price will be provided at the time of in person consultation.
| | |
| --- | --- |
| Services | Price |
| Root color touchup & blow dry | $120+ |
| | $145+ |
| Root touchup to hairline & part w/ blow dry | $70+ |
| Root color touchup & haircut | $220+ |
| | $235+ |
| | $190+ |
| | $300+ |
| | $45+ |
| | $35+ |
| | $110+ |
| | $205+ |
| | $245+ |
| Partial highlight & haircut | $290+ |
| | $330+ |
| Root color touchup & partial highlight | $275+ |
| Root color touchup & full highlight | $330+ |
| | $150+ |
| | $225+ |
| | $285+ |
| Partial balayage & haircut | $315+ |
| | $390+ |
| | $25 |
| | $25 |
| | $20 |
| | $70+ |
| | |
| --- | --- |
| Services | Price |
| Clay herbs & detox w/blow dry | $75+ |
| Clay herbs & detox w/no blow dry | $45+ |
| Scalp treatment w/blow dry | $100+ |
| Scalp treatment w/no blow dry | $70+ |
| Deep conditioning treatment w/blow dry | $85+ |
| Deep conditioning treatment w/no blow dry | $45+ |
| Oway rebuilding treatment w/infrared iron | $75+ |
| | $35+( with any conditioning treatment) |